IT will be like the opening scene from a James Bond movie this summer when skydivers fly towards Swansea Bay from thousands of feet above.
Swansea Council has now confirmed that the expert Tigers parachute display team have been added to the line-up for the Wales National Airshow on Saturday July 2 and Sunday July 3.
The team, formed in 1986, has performed across the world in locations including Berlin, Kosovo, Cyprus and Denmark.
Union Jack parachutes have featured in some of their past displays, much like the iconic opening scene from The Spy Who Loved Me, starring Roger Moore as 007.
Cllr Robert Francis-Davies, Swansea Council's Cabinet Member for Enterprise, Development and Regeneration, said: "We've already confirmed a number of aircraft taking part in the Wales National Airshow this summer, but there's much more to look forward to at the event as well.
"The Airshow will also include plenty of ground-based entertainment and the confirmation of the Tigers means we've now got one of the world's best parachute display teams on board, too.
"The line-up is now really starting to take shape for an event that's sure to live long in the memory for the many thousands of spectators who attend.
"Last year's attendance of more than 170,000 people speaks volumes for the Airshow's enduring popularity, which is why it's now being developed into an annual event.
"This is the best free event of its kind in Wales, helping generate millions of pounds for the local economy and giving Swansea's residents and visitors people world class entertainment in the skies above Swansea Bay."
Be the first to discover the display times!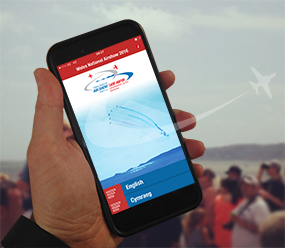 A new app has also been launched to help keep Wales National Airshow fans up to speed with this summer's free event.
Because of the popularity of the event, car park spaces in the city centre fill up quickly. However, to take the headache out of parking on the day, it is now possible to book premium parking at the Recreation Ground. All day parking is available at £16.50 per car, per day. The car park is located right next to the main ground display area and will be open from 9:00am – 7:00pm each day.
The official WNAS16 App, now available on iPhones as well as Android and Windows phones, includes news updates, information on aircraft and ground displays, links to hotels and details on Swansea restaurants and other events.
Displays already confirmed include the Red Arrows, the Eurofighter Typhoon, the Bronco Demo Team, Team Yakovlevs and Team Raven.
A comprehensive list of display times will be fed into the app at 10am on June 30.
The app, which is the only way to find out about the official timetable, can be downloaded from iTunes, Google Play and the Windows Phone App Store.