Trade Stand and Pitch Applications
Trade applications for the Wales Airshow present an excellent opportunity for you to promote your trade to a massive audience, with prices starting from only £300.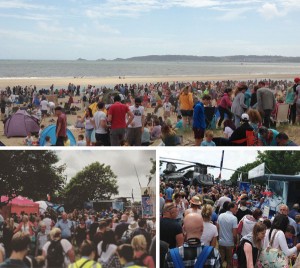 With a trade pitch at the Wales Airshow, you get access to:
A family audience
2 full day's trading
A variety of pitch sizes
Wales biggest free event
Access to 200,000+ potential customers

Space is allocated on a first come first serve basis.
We understand the financial pressures people are under following this unprecedented year and in order to provide some support, we are holding prices at the 2019 event prices until 31st March 2021, and you can also reserve your space with just a 25% deposit*. The balance will not need to be paid until 1 month before the event.
*In the event of the Airshow being cancelled as a result of Covid-19, either by local rules or national legislation, traders will be offered:
to carry forward fees to the 2022 Airshow and benefit from any early bird discount offers;
to a full refund.
Should the event go ahead as planned but under Covid-19 measures, traders choosing not to attend will not receive a refund.
The balance payment of 75% is due no later than Wednesday 2 June 2021, an email with a link to the secure payment page will be emailed to you in the 2 weeks leading up to this date. If the payment is not made by 2 June 2021 your space will be released and you will not be issued a refund.
Rules and Regulations for Traders
Fire Risk Assessment for Traders and Market Stalls
Bespoke trade options also available:
Banner space
Advertise your voucher on our App for only £50 extra
Sole roaming rights licence
Website banner adverts – Over 300,000 page views during the 2 months leading up to the event.
This post is also available in: Welsh