It's not just breathtaking aerial acrobatics on offer at the Wales Airshow – there's plenty of family fun to be had on the ground too!
With flight simulators, fun fairs, static replica aircraft, armed forces vehicles & displays and much more, there's loads to see and do. And don't forget plenty of food and drink on offer as well!
The ground displays are open from 10am – 6pm both days, you can arrive early to beat the traffic and take in the displays before the action in the air kicks off.
Take a look below to see what was on offer on 2023, and what to expect in 2024!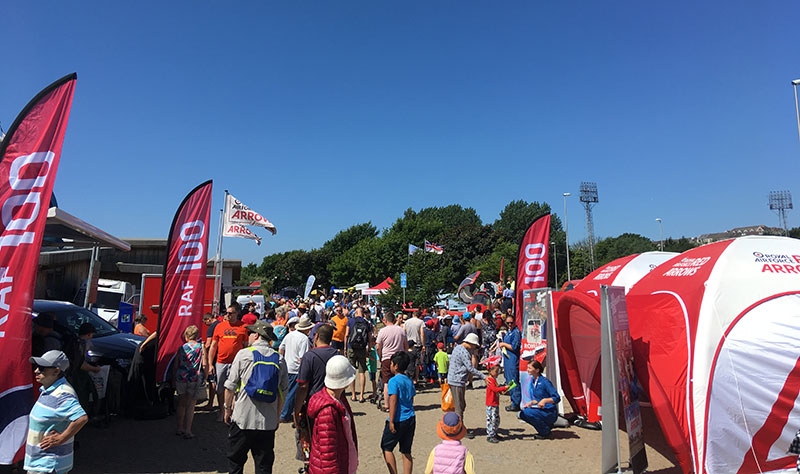 ---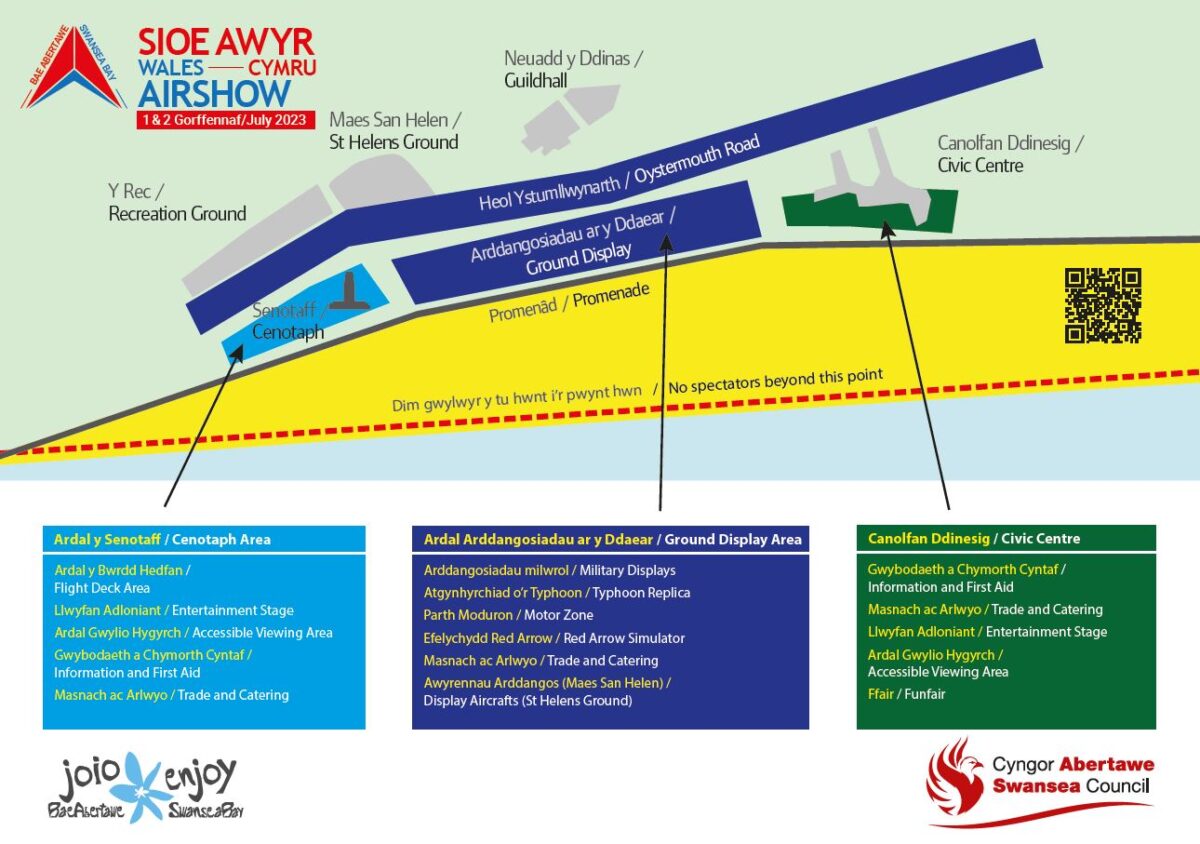 With the Wales Airshow getting better every year, the ground displays are too. As well as Swansea Prom being packed with great displays and activities, there's even more to see and do on Oystermouth Road as well. Ground Displays stretch across the prom from the Civic Centre down to Brynmill Lane.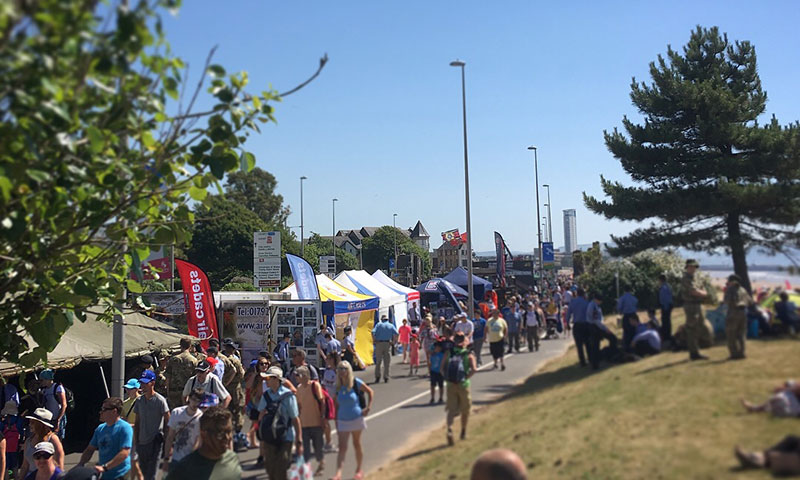 ---
Refreshments
A full range of food is available in the ground display area along Oystermouth Road, the Cenotaph and also around the Civic Centre. Tea, coffee and soft drinks are available. The food range includes jacket potatoes, curry, burgers, fish and chips, hog roast and crepes, as well as ice-cream, doughnuts, sweets and fudge. There is also a bar at the Civic Centre area and close to the Cenotaph.
---
Historical aircraft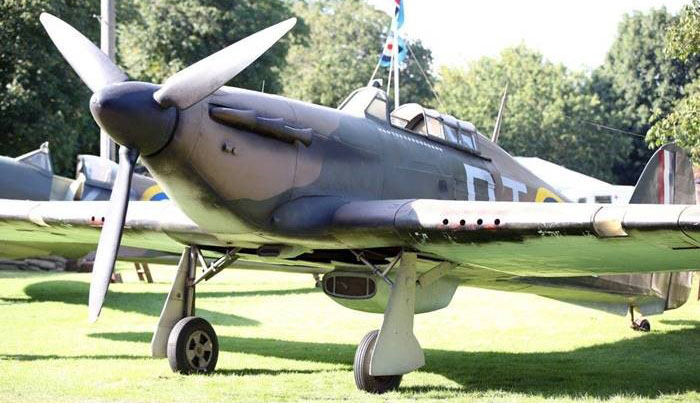 Come and see full size replica Spitfire and Flea planes! Historical promotions representatives will be on hand to provide talks and give out facts and details about the aircraft while you explore some of the most famous planes in British military history. And you can also get inside and explore the replica Chinook too!
---
Armed Services
There'll be plenty to see and do from the Armed Services including;
Band of the Prince of Wales
Large combat vehicles
Information trailers
And much more
And you can also get inside and explore the replica Typhoon too!
---
Experience the action with simulators and VR experiences
Ever wanted to experience standing on an aircraft carrier when the jets are taking off? Or how about sitting in the cockpit of an RAF Red Arrow? Explore the ground displays at the Wales Airshow to find these VR Experiences and Flight Simulators, as well as many more!
---
Air Cadets
The Air Cadets return to Wales Airshow with lots of interactive displays showcasing the many fun activities they get to do as cadets of the services.
---
Meet the teams
If watching the planes from the Prom just isn't enough, you'll have to opportunity to meet many of the display teams on the ground.
---
Funfair and Amusements
Funfair and amusements will be based at the Civic Centre and on Oystermouth Road, including a red arrows simulator, thrill seeker rides, children's rides, games and amusements throughout the Airshow weekend, fun for all the family!
---
Stage Entertainment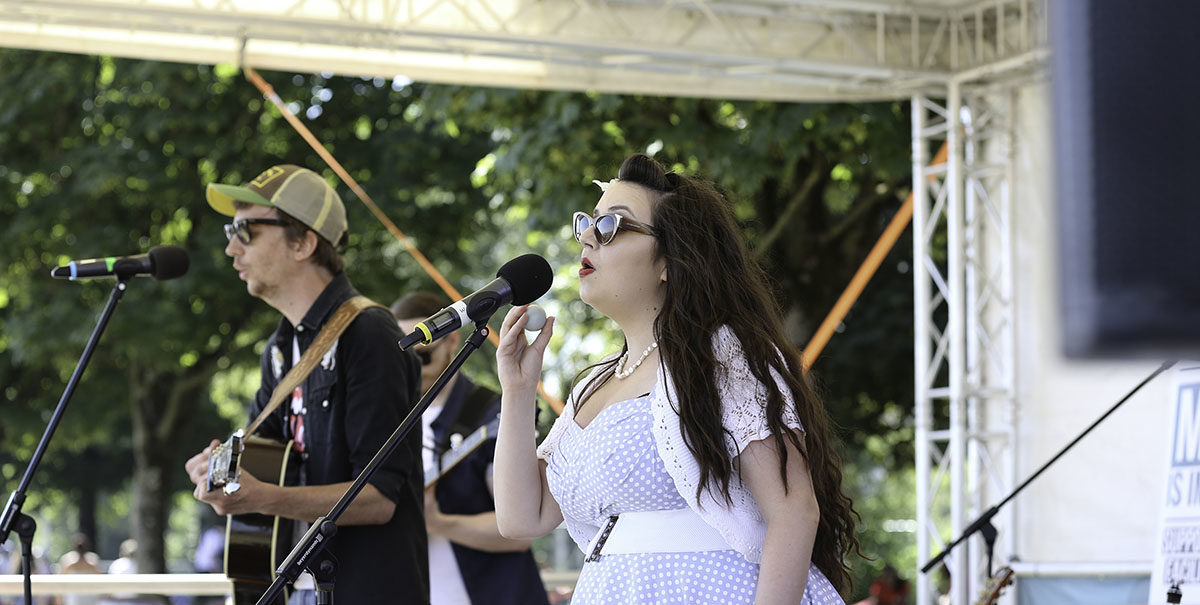 Showcasing some of the best in home-grown talent from South Wales to provide a musical backdrop for the weekend, there will be two stages at the Airshow providing live music and entertainment throughout the day at;
The Cenotaph
Civic Centre
Saturday – Entertainment Stage – Cenotaph
10:00
Swansea Music Hub – Local Bands Playlist
11:00
Welcome
11:15
The Band of The Prince of Wales
12:00
Eleri
13:10
Children's Entertainment
13:25
Speech by the Lord Mayor of Swansea, Councillor Graham Thomas, and Councillor Champion for Armed Forces, Councillor Wendy Lewis
13:30
The Band of The Prince of Wales
14:15
Children's Entertainment
14:30
Kid Mercury 20
15:00
Grack Mack and the Pack
17:30
Pariyah
Saturday – Entertainment Stage – Civic Centre
10:00
Swansea Music Hub – Local Bands Playlist
11:00
Welcome
12:00
Danny Sioned
12:30
Kayleigh Morgan
13:15
Will Thomas DJ
15:00
Molly Cheek
15:50
SA Collective
17:30
Local Rainbow
Sunday – Entertainment Stage – Cenotaph
10:00
Swansea Music Hub – Local Bands Playlist
11:00
Rock Choir
11:30
Margot Thirlwell
12:20
Joel Clark
13:40
The Band of the Prince of Wales
14:30
Tarun Rathod
15:00
Hippie Jump
15:30
Liam J Edwards
16:10
Vanilla
16.40
Akimbo
17:00
The Band of the Prince of Wales
Sunday – Entertainment Stage – Civic Centre
10:00
Swansea Music Hub – Local Bands Playlist
11:00
TBC
12:20
Pay The Man
13:40
Morro Bay
14:15
Jackson Lucitt
14:45
Drunk Poets Society
17:00
Rebecca Hurn
---