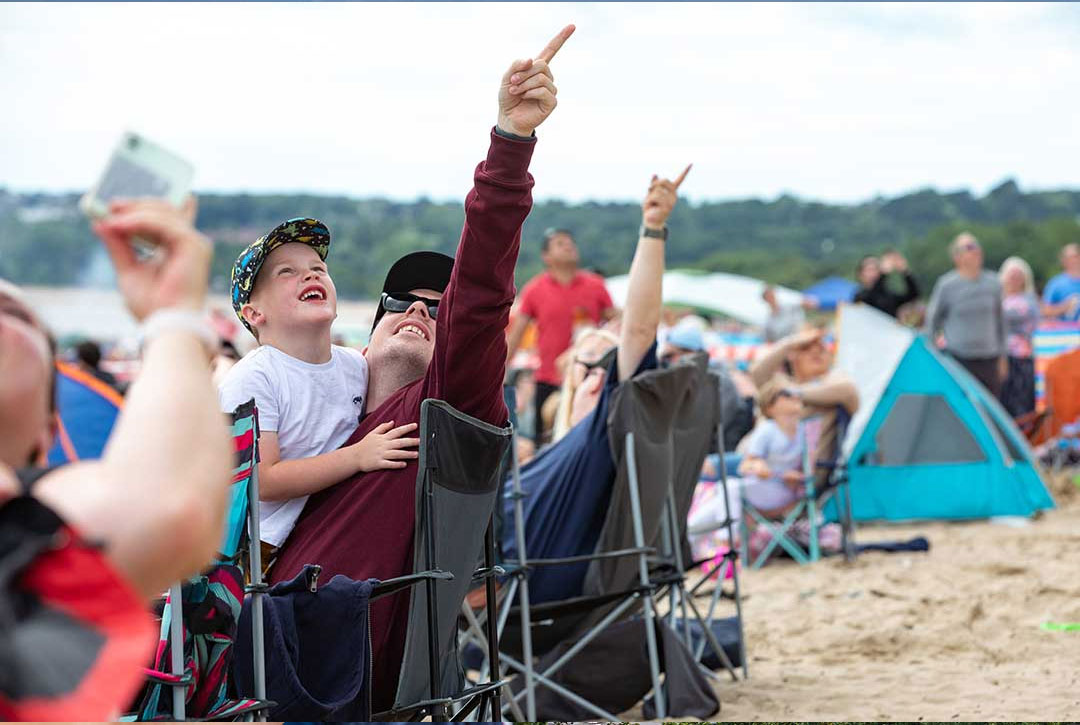 Organised by Swansea Council and Wales' largest FREE event, Wales Airshow is taking place this weekend (1-2 July). Wales Airshow features breathtaking air displays from world-class teams and interactive ground displays.  Here are some tips to help you make the most out of the weekend:
The air displays at Wales Airshow include exciting aerobatics, a variety of aircraft from vintage to modern and formation parachute exhibitions over the beautiful vista of Swansea Bay.
Display teams include the world-famous Red Arrows (supported by DS Automobiles at FRF Motors Swansea), Typhoon Display Team, Team Raven, Battle of Britain Memorial Flight, Norwegian Vampire, P-47 Thunderbolt, Tigers Army Parachute Display Team, AeroSuperBatics Wingwalkers, Strikemaster, Swordfish, Yak 50, Jet Pitts, Harvard G-NWHF, Supermarine Seafire and Westland Wasp.
Air displays will start around midday both days, Saturday opens with the Typhoon (!) and the Red Arrows will be flying at 5.00pm on Saturday and 12.00pm on Sunday.
As well as the acrobatic displays in the sky, there are interactive ground displays for the whole family to enjoy, including the chance to see replica planes including a Typhoon and Spitfire. Experience the Red Arrows simulator and whilst there visit the DS Automobiles at FRF Motors Swansea stand.
There will be live entertainment throughout the weekend and new this year; the Motor Zone for fans of cars and motorcycles with local dealerships including Wales Airshow supporter Sinclair Group.
The excitement on the ground starts every day at 10.00am.
There are Park & Ride services from Landore and Bay Studios (Fabian Way) and a range of dedicated event car parks to cater for the event. Pre-book to guarantee your space here. Car Parks open at 8am and Park & Ride begins at 8:30am running through until 8:00pm.
You can also travel to Wales Airshow by train and bus with our official travel partners, GWR and First Cymru.
New for 2023 – a dedicated bike park on the Lacrosse field. Spaces are on a first come basis.
To ensure the safety of the tens of thousands of people attending Wales Airshow, a range of temporary road changes and diversions will be in place. More information on these changes can be found here.
To make the most out of your visit, download the official Wales Airshow app – the only place to get the display timetable for the weekend. You also get live updates including any changes to the timetable, all the latest news, aircraft and team information, vouchers, and visitor information.
The app is available on both Android and Apple devices for a one-off price of £1.99, so if you have purchased the app before you can re-download it for free.  By downloading the app your contribution goes towards the cost of hosting Wales Airshow.
Keep it clean
Stay hydrated and keep Swansea litter free on Wales Airshow weekend. There will be three FREE water refill stations for you to use outside the Civic Centre, Cenotaph and opposite Brynmill Lane, and six recycling points along the promenade for you to drop off your rubbish.
You can find out more about how we're playing our part here: sustainability. 
Wales Airshow is an event for the whole family. Our family-friendly facilities include baby changing facilities and free child safety wristbands.
A mobile number on a wristband is the simplest and quickest way to help a lost child. Pick up your free wristbands, sponsored by Dawsons from:
All car parks
Park and Ride drop off Civic Centre
Information Points at the Civic Centre and Cenotaph
The promenade from Brynmill Lane and the Civic Centre
Police and Fire Service stands at the Cenotaph
There will be two accessible viewing areas provided at this year's Airshow. This facility is offered on a first come first serve basis.
National Autistic Society Swansea branch will be at the accessible viewing areas to support families and a quiet viewing area is located on the first floor of the Central Library. More accessibility information can be found at here.
Are you looking for things to do this summer in Swansea Bay? Visit the Enjoy stand near the Cenotaph to pick up your copy of A Summer to Enjoy brochure packed with ideas to make your summer fun-filled. You can also visit our website at www.enjoyswanseabay.com.
After the event, why not check out food and drink venues in the city or even make a weekend of it, head to www.visitswanseabay.com for inspiration.
Keep up to date
Give us a follow for all the latest Wales Airshow news and tag us in any images you capture over the weekend.
www.facebook.com/walesairshow
www.instagram.com/walesairshow
www.twitter.com/walesairshow
The Wales Airshow website, www.walesairshow.co.uk has all the information you need to make the most out of this year's event.
Thanks to our sponsors and supporters for helping us deliver what must surely be Wales' largest and best loved FREE event, Wales Airshow.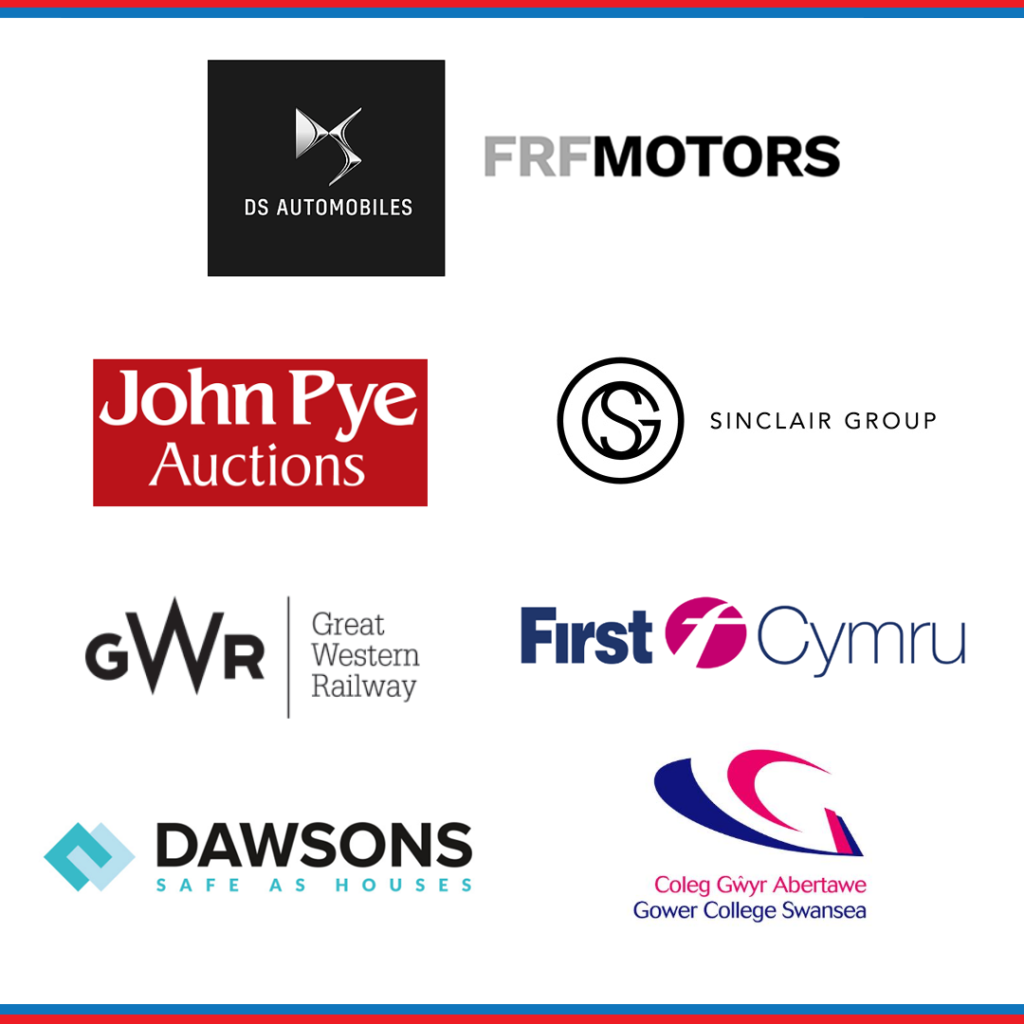 Red Arrows Supported by DS Automobiles at FRF Motors Swansea
Gower College Swansea – sponsor of the (sold out) Wales Airshow Flight Deck
John Pye Auctions – supporter of the 2023 Wales Airshow
Sinclair Group – supporter of the 2023 Wales Airshow
Great Western Railway – travel partner of the 2023 Wales Airshow
First Cymru – travel partner of the 2023 Wales Airshow
Dawsons Estate Agents – sponsor of the Lost Children's Wristbands
We look forward to welcoming you to Wales Airshow 2023 and would like to thank all of our sponsors and supporters for helping us make this Wales' largest free family event.