*Diweddariad*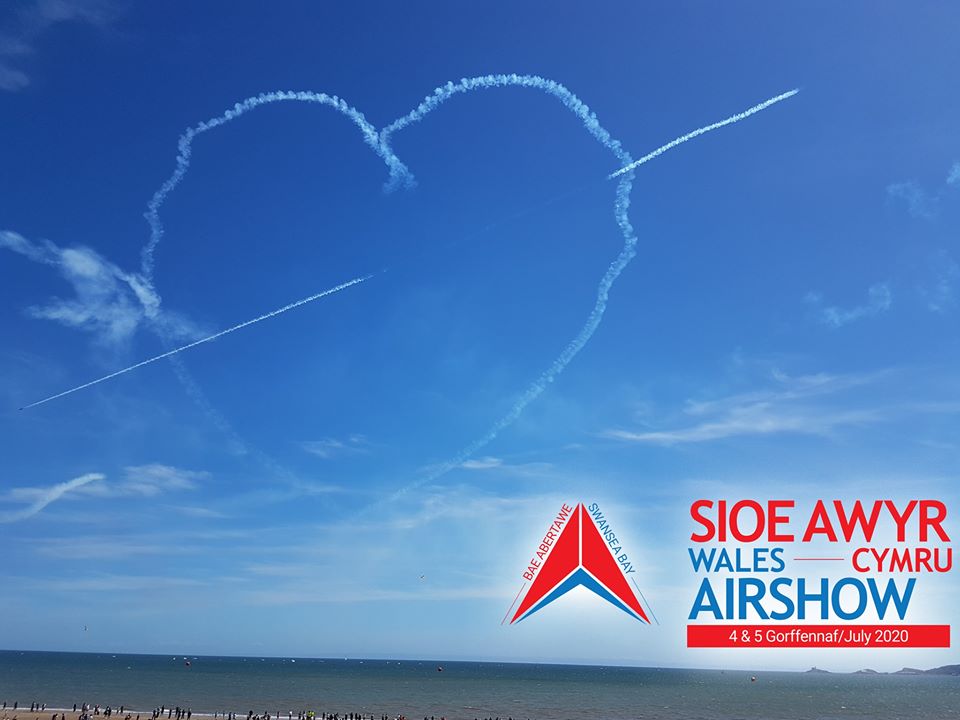 O ganlyniad i'r sefyllfa bresennol, mae digwyddiadau a drefnir yn uniongyrchol gan Gyngor Abertawe wedi'u canslo neu eu gohirio nes diwedd Awst 2020.
Mae'n ddrwg gennym gyhoeddi bod y digwyddiadau a ganslwyd yn cynnwys Sioe Awyr Cymru 2020 a oedd i'w chynnal ar 4 a 5 Gorffennaf eleni.
Bydd ein tîm yma o hyd i roi'r diweddaraf i chi ac i rannu lluniau a fideos gwych a llawer mwy er mwyn helpu i wella'ch dydd – ond yn y cyfamser, arhoswch yn ddiogel a dilynwch y canllawiau gan Iechyd Cyhoeddus Cymru a'r llywodraeth.
Welwn ni chi'n fuan!
Tîm Sioe Awyr Cymru
---
Robert Francis-Davies, the council's cabinet member for investment, regeneration and tourism, said: "We've made this decision to cancel or postpose council-organised events based on advice from Government and Public Health Wales. We'll review the August end date on a regular basis.
"We haven't taken this decision lightly but the situation is now compelling. Trying to curtail the spread of the virus along with maintaining the health and wellbeing of our staff, public, suppliers and the emergency services is paramount.
"We face possibly the most challenging situation that any of us has ever faced and we're sure that event businesses and supporters will understand this decision.
"We know the importance of public events organised by the council but, for now, it's essential that we do what we can to reduce the spread of the virus.
"This decision will reduce the risk of loss of life and will allow us to get back to putting on events as quickly as possible.
"At present, we're advising our external event providers that they must satisfy themselves that they are doing all they need to in order to meet the Government guidelines and to safeguard the public. We will continue to review this in partnership with them as the situation evolves."
Swansea Council's Events Team remains available to provide advice and support to partner businesses. Email: special.events@swansea.gov.uk.
More info: www.swansea.gov.uk/coronavirusadvice.
---
Os oes gennych unrhyw bryderon ynghylch eich iechyd, neu os oes gennych unrhyw gwestiynau am y Coronafeirws neu ei symptomau, cymerwch gipolwg ar wefan GIG i weld y cyngor a'r arweiniad diweddaraf.
Gellir dod o hyd i'r wybodaeth ddiweddaraf gan Gyngor Abertawe yma.
Gelir dod o hyd i ddiweddariadau rheolaidd gan Lywodraeth y DU yma.