IT'S been confirmed that the Red Arrows are returning to the Wales National Air Show in Swansea Bay this summer.
Swansea Council has announced that the crowd favourites will all once again headline both days at the free event.
This year's Wales National Air Show, forming part of the Enjoy Swansea Bay events programme, is being held on Saturday July 2 and Sunday July 3.
It'll be the first time the Air Show has been held on two consecutive summers, as Swansea Council strives to make it an annual event.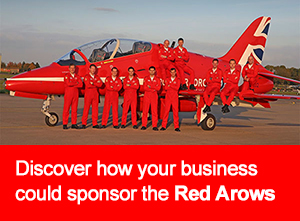 Cllr Robert Francis-Davies, Cabinet Member for Enterprise, Development and Regeneration, said: "Planning is well under way for the return of the Wales National Air Show.  This has included negotiations to confirm the participation once again of the world-renowned Red Arrows, who have always been tremendously well-received in the past. We're determined to keep on meeting people's expectations, so the return of these crowd pleasers shows we're on the right track. More aircraft and ground-based entertainment will be announced over coming weeks as details are finalised."
Last year's Wales National Air Show attracted more than 170,000 spectators, generating over £7.6 million for the local economy in Swansea.
Cllr Francis-Davies said: "It's our intention to make an annual Air Show one of the key anchor events of our hugely varied, family-friendly Enjoy Swansea programme. This makes perfect sense because the event attracts visitors from the across the UK and beyond, gives local people world class entertainment on their doorstep and boosts spending in local hotels, bed and breakfasts, shops, pubs, restaurants and other businesses.
"Having the Air Show as a fixed date in the annual calendar will also give people more certainty when they're booking their holidays – whether it's local residents who don't want to miss out, or visitors from elsewhere looking to base their trips to Swansea Bay around the event. An annual Air Show also means we can further develop the event's sponsorship packages and trade opportunities in future."