A NEW app has been launched to help keep Wales National Airshow fans up to speed with this summer's free event.  
The official WNAS16 App, now available on iPhones as well as Android and Windows phones, includes news updates, information on aircraft and ground displays, links to hotels and details on Swansea restaurants and other events.
Swansea Council is behind the app and has teamed up with a number of local businesses who are providing  a selection of offers that can be redeemed in  in and around Swansea Bay over the course of the weekend.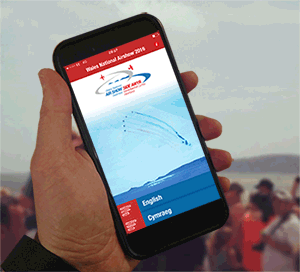 Cllr Robert Francis-Davies, Swansea Council's Cabinet Member for Enterprise, Development and Regeneration, said: "The free Wales National Airshow has been an outstanding success story for Swansea since being first introduced in 2009, but we're always looking for ways to improve both the event and the visitor experience.
"The dedicated Wales National Airshow app is a fantastic idea  allowing people to keep up with the latest airshow news when they're on the move enjoying both the ground and air displays over the course of the weekend. As well as helping people plan their visits to Swansea Bay, the app will also include the event timetable when details are finalised or if there are any last minute changes. ,
"We hope the app will further add to a visitor experience that's worth over £7.6m for the local economy after 170,000 people visited in 2015. Its this kind of popularity, which was behind many requests from the public to make this an annual event. "
The Wales National Airshow is being held on Saturday July 2 and Sunday July 3. Displays already confirmed include the Red Arrows, the Eurofighter Typhoon, the Bronco Demo Team, Team Yakovlevs and Team Raven.
Other displays, as well as details of ground-based entertainment, will be announced over coming weeks, along with special offers being added regularly in the build-up to the event .
A comprehensive list of display times will be fed into the app at 10am on June 30.
The APP can be downloaded from iTunes, Google Play and Windows Phone App Store at an Early Bird price of £1.49**.
*The Comprehensive list of display times will be fed into the APP at 10am on June 30th 2016.  This will then be updated when any time changes are necessary making sure you know what's going on when and enabling you to plan.
**The Price of the APP on Windows Phone Store is dependant on the exchange rate and may fluctuate. The Early bird offer ends at Midnight June 17, price will then rise to £2.29.