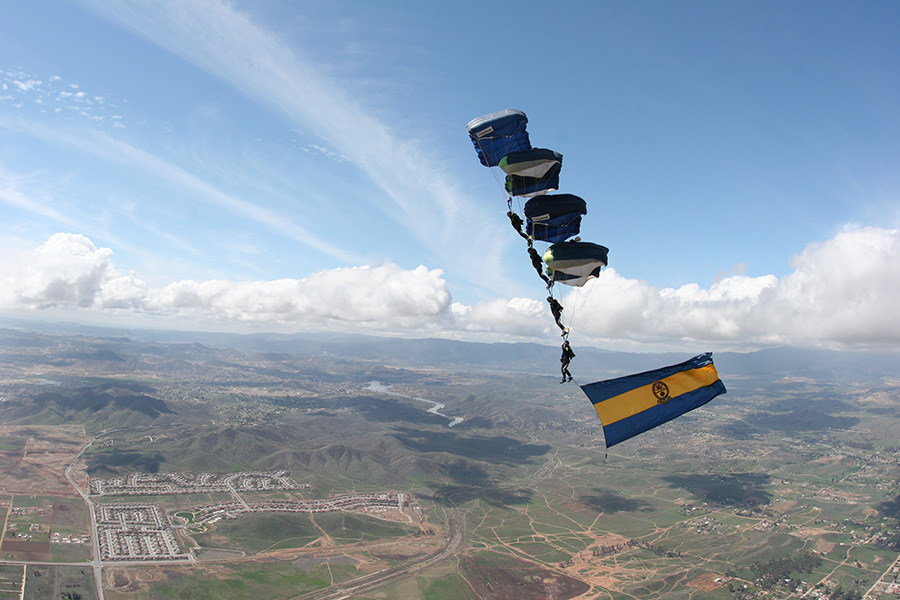 The Tigers Army Parachute Display Team will be dropping in on both days of the 2022 Wales Airshow – but that's not all!
On Sunday 3rd July, they'll will kick off the Swansea section of the Birmingham 2022 Queen's Baton Relay, parachuting in with the baton itself! The baton will then be handed off and on to the rest of the relay.

The Birmingham 2022 Queen's Baton Relay is confirmed to visit Swansea during its final journey before handing over to England this summer, as the full route is revealed.
Birmingham 2022 is hosting the 16th official Queen's Baton Relay – a journey which brings together and celebrates communities across the Commonwealth during the build up to the Games. In Wales, the Queen's Baton Relay will provide the opportunity for communities to experience the excitement for Birmingham 2022, as the 11 days of showstopping sport nears ever closer.
The Queen's Baton Relay is set to travel through Wales over 5 days, before returning to England and culminating at the Opening Ceremony for Birmingham 2022 on 28 July 2022. Kicking off on Wednesday 29 June in Anglesey, North Wales the Baton will travel down the Country and across South Wales, with a grand finale in Swansea on Sunday 3 July.
A busy schedule of activities and events are planned for the Queen's Baton Relay, with opportunities to highlight untold stories from Batonbearers who are striving for change in their community.
The Queen's Baton Relay is set to arrive in Swansea on July 3 during the city's Wales Airshow.
The planned schedule of activity for the Baton's July 3 arrival in Swansea includes:
Arrival via parachute drop with the Tigers Army Parachute Display Team – weather permitting
Baton relay westbound along a short length of the prom then eastbound along the beach to the Civic centre area.
Members of the public are encouraged to get involved with the celebrations and embrace the arrival of the Baton, taking the opportunity to experience the buzz of Birmingham 2022 in their community. The Team Wales website will be updated with information over the coming weeks, with detail on the events and where to line the route.
Find out more information on the Birmingham 2022 Queen's Baton Relay to visit Swansea
Don't forget to download the official Wales Airshow App for all the latest news and information ahead of this year's event!