Travelling to Swansea
Swansea is easily accessed from the M4 junction 47 if you're travelling from the Carmarthen direction, or M4 junction 42 from the Cardiff / London direction – just follow the Wales National AirShow signs. Get directions to Swansea.
For more information visit Traveline Cymru's website or call 0871 200 2233 for help on planning bus, coach and rail journeys.
If you are travelling from the city centre direction towards Mumbles (from Fabian Way / Junction 42) you will see St Helen's Rugby and Cricket Ground on your right and you need to turn right at the next lights.
If you are travelling from Mumbles / Junction 47 / Sketty / Gower direction you will pass Swansea University on your left, then turn left after the next set of lights at Brynmill Lane.
Need help deciding where to park? Click the image below to view our helpful map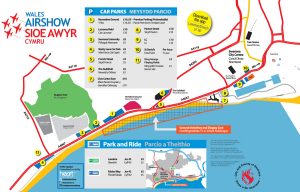 If You Are Staying In Gower
From North Gower – Head for City Centre, A4118, Gower Road, through Killay, turn right onto Sketty Lane A4216
From South Gower – A4118, turn right onto the B4436, through Kittle and down Mayals Road.  Turn left onto Mumbles Road A4067 and follow signs for the airshow car parks.
For more information about accommodation in Gower, check out visitswanseabay.com.
Lift Sharing
We recommend that you car share by using Liftshare, which will allow you to see who will be travelling to the AirShow and help you to find a suitable lift.

Walking And Cycling
Local people are being encouraged to walk or cycle to the AirShow if possible.  Cycle routes are open, although Swansea Prom will be very crowded around the ground display area at St Helen's and each afternoon during the air display so please use the cycle track on the other side of the road.
Local Buses
Buses will be running as normal – check timetables at Traveline Cymru's website.  There may be delays due to heavy traffic.
Coach Parking
Drop off at the Civic Centre (County Hall) at one of the bus stops then move the vehicle to the coach parking facility in the LC / Oystermouth Road car park.
Directions
Accommodation
There are loads of great places to stay listed on the official visitor information website visitswanseabay.com.
This post is also available in: Welsh