Premium Parking
If you've pre-booked your Premium Parking you will be on the Recreation Ground by St Helen's.  There may be a few spaces left for £16.50 per car on the day. Early arrival is encouraged, as there will be plenty to see and do in the ground display which is open from 10.00am – 6.00pm each day.
Car Parks
Here's a handy grid of which car parks will be open during the event and how much they will cost.
Air Show Park and Ride
Opening hours:
Saturday: 8.30am – 8.00pm
Sunday: 8.30am – 7.00pm
Pay and display car parks – open as usual both days
St David's multistorey carpark
Quadrant multistorey carpark
Also see www.swansea.gov.uk/carparks for more information.
Need help deciding where to park? Click the image below to view our helpful map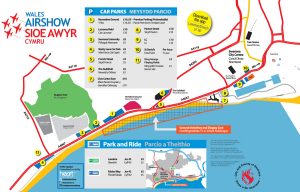 Event car parks
£5 – £10 for all day parking
From £5 – £10 for all day parking between 9.00am – 7.00pm for use during the Wales Airshow on 1 – 2 July in Swansea:
Singleton Park / Lacrosse Field: (£10) open 9.00am – 7.00pm – turn right at the traffic lights on Oystermouth Road into Brynmill Lane and then turn left into the Lacrosse Field – SA2 8PY
West Car Park, Civic Centre, (£10) open 9.30am – located off Oystermouth Road, SA1 9SD
Swansea University: (£5) open 10.00am – turn off Oystermouth Road into the main Swansea University entrance – SA2 8PP
Paxton Street: (£10)
Guildhall Rotunda: (£5)
Sketty Lane: (£5)
Oystermouth Rd: (£10)
Disabled parking
Dedicated parking for the disabled is available in each of the designated car parks apart from Paxton Street.
We also have information for disabled visitors here.
This post is also available in: Welsh