ONE of Britain's top aerial acrobats will be making her debut at this year's Wales Airshow with a dazzling display of near-impossible manoeuvres.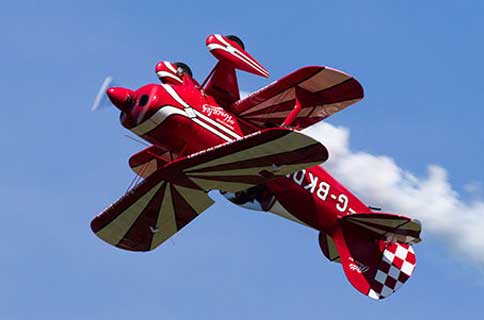 Lauren Wilson was crowned Britain's top female aerobat in 2012, aged 26, and is now a passionate airshow display enthusiast.
Flying a Pitts Special S1-S – G-BKDR biplane, Lauren spends so much of her time flying upside down that she's written her name upside down on the leading edge of the plane's upper wing.
Her spectacular show includes rolls, flick rolls, loops and any number of unique manoeuvres honed in a plane that's less than half the weight of an average Citroen C1 runabout.
Lauren is just one of an increasing array of new attractions at the Wales Airshow which promises to be the biggest and best ever this year. Now entering its fourth year in a row, Robert Francis-Davies, Cabinet Member for Innovation, Regeneration and Tourism, said the Lauren's display promises to be a breath-taking spectacle.
He said: "This year we've got lots to celebrate with the centenaries of the formation of the RAF and the end of World War I as well as 100 years since women were allowed to vote for the first time.
"All of these anniversaries are going to be commemorated at the Wales Airshow and in some style. Lauren Wilson is the latest in a long line of female pioneers of flight, whose exploits can sometimes be overlooked.
"We should all remember the likes of Amelia Earhart, the first woman to fly solo across the Atlantic as well as Amy Johnson, the first female to fly alone from Britain to Australia, who was born 114 years ago on July 1.
"She died in 1941 serving her country while a member of the Air Transport Auxiliary; the largely-unsung heroes whose job it was to transport RAF aircraft around the country, thereby freeing-up male pilots for the front line."
This year's Wales Airshow takes place on June 30 and July 1and it's expected the crowd could break last year's 250,000 record.
This post is also available in: Welsh