THREE iconic aircraft from yesteryear will bring history to life at the Wales Airshow this summer.
As part of the RAF 100 centenary celebrations the Battle of Britain Memorial Flight will be showcasing three of just a handful of planes still in the air more than 70 years after their finest hours.
The Supermarine Spitfire, Hawker Hurricane and Avro Lancaster will be making their mark at the Wales Airshow on June 30 and July 1 in front of crowds likely to run to well over 250,000.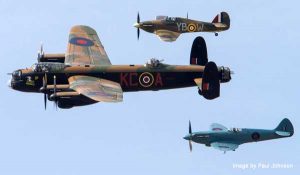 The free event run by Swansea Council has already announced some of the world's best-known aircraft on the line-up for this year including , the RAF Red Arrows and Typhoon display teams.
Robert Francis-Davies, Cabinet Member for Culture, Tourism and Major Projects, said: "The Battle of Britain Memorial Flight is arguably the most historic and evocative flight display in British history.
"Without the planes, the pilots, the crews and the many thousands working on the ground that supported our fighters and bombers, Britain's story could have been a very different one. To see them in flight is to bring history to life and on the 100th anniversary of the foundation of the RAF we are proud to be hosting them here in Swansea."
He added: "Combining with modern aircraft, cutting-edge aerobatic displays and ground-based entertainment, this display is among many that hundreds of thousands of spectators will soon be enjoying in the skies above Swansea.
"More aircraft will be confirmed over the coming weeks as we continue to develop the programme for this major event that's worth more than £8m to the city's economy."
This summer marks the fifth consecutive year for the Wales Airshow in Swansea.
This post is also available in: Welsh