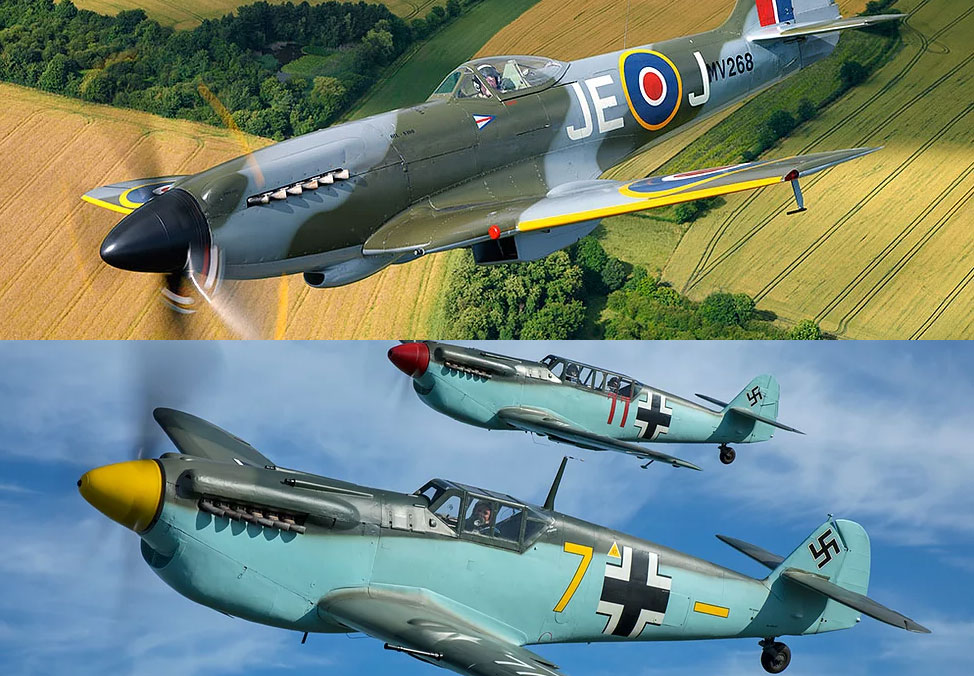 Displaying: Saturday and Sunday
We're delighted to welcome another Wales Airshow debut for 2019, the Ultimate Warbirds!
The Ultimate Warbirds display will feature FR XIV Spitfire, MK. Vc Spitfire and two G-AWHM Buchon in action over the skies of Swansea Bay.
---
Spitfire FR XIV
Built at the end of 1944 at Keevil, this Spitfire Mk XIV was stored by the RAF until early 1945. It was sent, from 33MU at RAF Lyneham, to India where details of whatever service she saw have been lost in the mists of time – and the Royal Indian Air Force records system. She was recovered to England in the early seventies and formed part of a UK collection. The restoration was completed in August of 1992 and the aircraft has been operational ever since.

---
Spitfire MK Vc
On 11th September 1942 Spitfire MK Vc EE602 was built by Westland in Yeovil, Somerset under contract number B124305/40. When built, EE602 was fitted with the universal 'C' wing configuration. This allowed it to be fitted either with 8 machine guns, 4 20mm canons or a mix of 4 .303 machine guns and two 20mm canons. This aircraft had the mix of machine guns and cannons. It was fitted with a Rolls Royce Merlin 46 engine. This produced 1,415 bhp at 3,000 rpm and +16 ib/sq. in. boost at 14.000 ft.​
EE602 started out with 66 Squadron. 66 was the second Spitfire Squadron to come into existence and fought in the Battle of Britain.
---
G-AWHM Buchon
Hispano HA-1112-M1L Buchon G-AWHM was produced by La Hispano Aviacion in the 1950's and was essentially a Messerschmitt BF109G with a British Rolls Royce Merlin engine installed. The Spanish Air Force operated the aircraft until late 1965 and was then placed in storage.​
This aircraft, and many other Buchons, were then removed from storage and made airworthy again for the film "The Battle of Britiain".