Opening hours:
Saturday: 8.30am – 8.00pm
Sunday: 8.30am – 7.00pm
Where possible we encourage air show visitors to use one of our 2 park and ride sites
Park & Ride Sites
Fabian Way – Junction 42 M4 – Fabian Way Park and Ride Site, Fabian Way, Swansea, SA1 8LD
Landore – Junction 45 M4 – Landore Park and Ride Site, Cross Valley Link Road, Landore, Swansea, SA1 2JT
To make your Park and Ride a more enjoyable one, buses will be colour coded to ensure you get the correct bus back to your car.
Landore is

GREEN *

Fabian Way is

BLUE*



* Pre-book these two sites to guarantee your space.
Need help deciding where to park? Click the image below to view our helpful map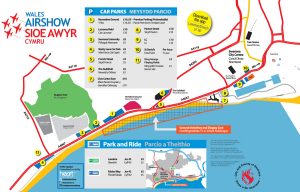 General Information
The Park & Ride services are bespoke to the Airshow event and are only calling at the Park & Ride sites and the Civic Centre, and will cost £5.
The following bus stops are being observed at the Civic Centre:
Landore Park & Ride* – the Ramp (heading west)
Fabian Way Park & Ride – the Registrars (heading east)
*The Landore Park & Ride will also offer a £2 return service from the train station to the event.
This post is also available in: Welsh