Flight simulators, a funfair and more fantastic ground displays at this year's Wales National Air Show. Ground displays open 10.00am – 6.00pm.
RAF Ground Displays

You've seen what they can do in the air, this year take a look at the Red Arrow Hawk up close.
The dual control BAE Systems Hawk T1 is the Royal Air Force's advanced trainer, and has been used by the Red Arrows since 1979.    Find out more.
Inflatable Rugby Skills – have a go at training with the RAF and try out your rugby skills
Recruitment Vehicle – thinking of a career in the RAF. Get some advice at the Wales National Airshow
a real RAF Glider
Red Arrow Hawk
Skills cage
Recruiting Gazebo
Civilian simulator
Air Training Corps Bomber run
Army
HGV SV Vehicles – Check out the vehicles used by the UK armed forces.
Recruiting Gazebo – thinking of a career in the British Army?  Pop in and have a chat with the personnel at the Wales National Airshow.
Assault Course – Think you're tough enough?  Try out an Army assault course!
Demountable Rack Offload and Pickup System (DROPS) is a family of logistics vehicles operated by the British Army. DROPS was a system designed to meet the very high intensity battles in Central Europe in the last decade of the Cold War. However it entered service after the collapse of the Warsaw Pact but nevertheless proved a versatile vehicle system on operations completely different from those originally envisaged.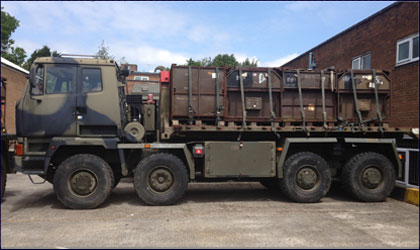 The MAN Support Vehicle (SV)
Recently the Army has integrated a new fleet of MAN HGV's into its Logistical chain. Replacing the tired, but not yet broken Leyland Daf and Foden equivalents, this has been on the cards for some time. The MAN support vehicle (SV) comes in three variants, including a flat bed truck, a tanker and a recovery vehicle. The SV will need to cover a vast amount of miles and be expected to carry its load over some challenging terrain.
Royal Navy
Outreach 4 (OR 4) – Visit the "Fit for Life" stand and learn how physical activity, food, nutrition can help keep you fit and healthy.
Watch two chefs cook a simple, often speedy yet healthy meal ('nutritious, delicious – pan to plate 15 mins'!) whilst they talk about their times in the Royal Navy and Royal Marines.
Each cooking presentation is approx 20 mins – During the presentation the 24 hour ration pack (as used by servicemen in theatre) will be explained. Small taster plates of the completed food will be offered to the audience at the end of each presentation.
Air related ground displays
Red Arrows Marquee – all you want to know about the world famous aerobatic display team!
Ride in one of the Hawk Aircraft with Wing Commander 'Red 1′ in one of the fantastic displays. The highly realistic simulation is achieved through precision correlation of a powerful hydraulic motion system with point of view film shots. The Red Arrows Simulator is always highly received at every event it attends.
Battle of Britain Memorial Flight simulator ride
The official Battle of Britain Memorial Flight simulator ride offers a breathtaking flight onboard a spitfire aircraft.
General
Disabled viewing areas
Recycling stations
Trade Stands
Funfair
Inflatables
Refreshments
A full range of food will be available in the ground display area around the Recreation Ground and Cenotaph and also around the Civic Centre.   Tea, coffee and soft drinks will be available. The food range will include jacket potatoes, curry, burgers, fish and chips, hogroast and crepes, as well as icecream, doughnuts, sweets and fudge.
Look out for the Swansea Council marquee area by the Cenotaph,  showcasing the best venues and services in Swansea!
This post is also available in: Welsh