It's not just breath – taking aerial acrobatics on offer at the Wales Airshow – there's plenty of family fun to be had on the ground too!
With flight simulators, fun fairs, armed forces vehicles & displays and much more, there's loads to see and do. And don't forget plenty of food and drink on offer as well!
The ground displays are open from 10am – 6pm both days, you can arrive early to beat the traffic and take in the displays before the action in the air kicks off.
Below is just a taster of what was on offer at the 2018 Wales Airshow – make sure you come along on the day to see all of this and much more! This page will be regularly updated with attractions for the 2019 Wales Airshow closer to the event.
Bigger and better for 2018!
With the Wales Airshow getting bigger and better every year, the ground displays are too. This year, as well as Swansea Prom being packed with great displays and activities, there will be even more to see and do on Oystermouth Road as well.
---
Refreshments
A full range of food will be available in the ground display area around the Recreation Ground and Cenotaph and also around the Civic Centre. Tea, coffee and soft drinks will be available. The food range will include jacket potatoes, curry, burgers, fish and chips, hog roast and crepes, as well as ice-cream, doughnuts, sweets and fudge.
---
RAF HAWK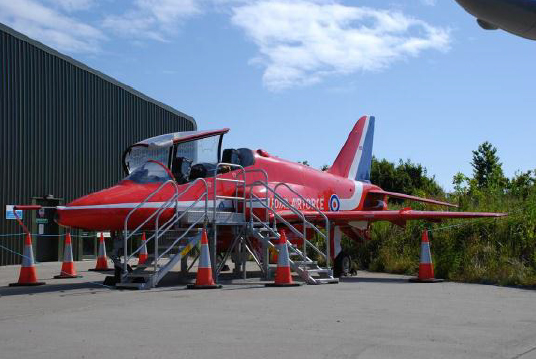 You've seen what they can do in the air, this year take a look at the Red Arrow Hawk up close! At the Wales Airshow you can get the chance to take a look inside a RAF Red Arrow Hawk and find out just how the pilots fly these incredible planes. You can also get a photo in the cockpit!
There'll be lots more to see from the RAF too, with display tents, and even a giant deck chair for photos.
---
Armed Services
There'll be plenty to see and do from the Armed Services including;
Army Fitness Challenges
Drum Corps Demonstrations
Large combat vehicles
Inflatables
Information trailers
And much more
---
Air Cadets
The Air Cadets return to Wales Airshow with Field Craft Displays, Radio set ups, and you can test yourself on their Mobile Climbing Tower
---
Funfair and Amusements
Civic Centre West Car Park will be full of rides, games amusements and a fun fair throughout the Airshow weekend, fun for all the family!
---
Stage Entertainment
There will be three stages at the Airshow providing live music and entertainment throughout the day at;
The Cenotaph
Civic Centre
Oystermouth Road (opposite The Bay View)
Things kick off on the Cenotaph Stage on Saturday celebrating Armed Forces Day, including a special flag raising ceremony. You can find out more about the planned Armed Forces Day celebrations here.
Swansea Music Hub, the team behind last year's break-out Swansea Fringe Festival, are curating three stages of locally-sourced music, showcasing some of the best in home-grown talent from South Wales to provide a musical backdrop for the weekend.
Find out the full timetable here 
---
Wildlife Trust of South Wales
The Wildlife Trust of South Wales
'Sea Wales' 7D augmented reality family experience, immersive skills and learning opportunities to build connections, sculpt attitudes, change behaviour and inspire action to benefit the natural heritage of our coast and sea.
The project will provide participants with opportunities to learn about, enjoy and contribute to the conservation of the marine environment, its conservation and how they can impact on its future; whether they live on the coast, use the marine environment for work or leisure, or live inland and visit the coast on holiday.
This post is also available in: Welsh