Pitch Applications for the Wales Airshow
Trade applications for the Wales Airshow present an excellent opportunity for you to promote your trade to a massive audience.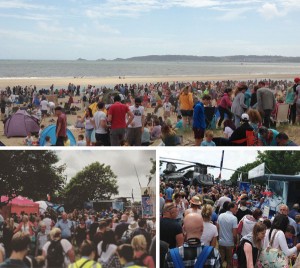 Trade pitches at the Wales Airshow provide you with:
A family audience
2 full day's trading
A variety of pitch sizes
Access to 250,000 potential customers
Bespoke trade options also available:
Banner space
Advertise your voucher on our App for only £50 extra
Sole roaming rights licence
Website banner adverts – Over 250k page views during the 2 months leading up to the event.
When details are confirmed for the 2018 Wales Airshow, you will be able to apply for Trade pitches here.
Traders and Market Stalls Fire Risk Assessment
Advertise your business on our Website and in the Official WNAS App
The Wales Airshow website receives a very high volume of internet traffic in the months surrounding Wales' biggest Airshow. Find out how you can promote your business to this audience here.
Sponsorship Opportunities
Swansea Council organises and hosts a diverse range of award winning events which attracts thousands of visitors each year. Find out here how you can work with us to help us sustain and enhance these events.
This post is also available in: Welsh