A MILITARY helicopter that can be operated from land or ship in the world's most extreme environments has been added to the line-up for the Wales Airshow.
The RAF Chinook will be among many aircraft performing at this Swansea Council  free event, which is taking place in the skies above Swansea on Saturday June 30 and Sunday July 1.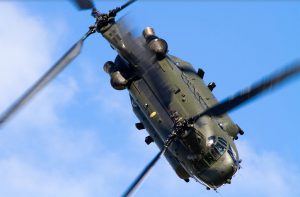 With a maximum speed of 160 knots and a maximum altitude of 15,000 feet, the 30-metre long Chinook can be operated in the Arctic, jungle or desert. Its cockpit has a full night-time capability when operated with night-vision goggles, allowing low-level night operations in hostile environments. 
The Chinook has been on active service in military and humanitarian operations with the RAF since the 1980s. It saw action in the Falklands War, in Kosovo and in the two Gulf Wars and can carry up to 55 fully-laden soldiers.
Robert Francis-Davies, Cabinet Member for Culture, Tourism and Major Projects, said: "With the Airshow now only about seven weeks away, anticipation is really starting to build.
"This is one of our flagship events in the annual event calendar and it's the best free event of its kind in Wales, which draws in many thousands of spectators from across South Wales and beyond, thanks to the combination of world class aerobatic displays, vintage aircraft and ground-based entertainment.
"As well as generating a bumper weekend of business for our traders, the Wales Airshow helps raise Swansea's profile as city of high quality events. It's one of many events and activities taking place this summer as part of our Enjoy Swansea programme of events and activities."
The App, which is now available, will be updated in real time to reflect changes in the event schedule and timings that may be caused by the weather and other factors.
Details of premium parking and park and ride for the Wales Airshow are also now available.
Images by Paul Johnson
This post is also available in: Welsh