A MILITARY helicopter that can be operated from land or ship in the world's most extreme environments has been added to the line-up for the Wales Airshow!
The RAF Chinook will be among many aircraft performing at the free event, which is taking place in the skies above Swansea on Saturday July 1 and Sunday July 2.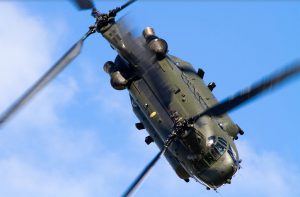 With a maximum speed of 160 knots and a maximum altitude of 15,000 feet, the 30-metre long Chinook can be operated in the arctic, jungle or desert. Its cockpit has a full night-time capability when operated with night-vision goggles, allowing low-level night operations in a hostile environment. 
Swansea Council is behind the Wales Airshow, with Swansea University on board as the event's key sponsor in 2017.
Frances Jenkins, the council's Strategic Manager for Marketing, Tourism and Events, said: "With the Airshow now about seven weeks away, anticipation is really starting to build. "It's the best free event of its kind in Wales, which draws in many thousands of spectators from across South Wales and beyond, thanks to the combination of world class aerobatic displays, vintage aircraft and ground-based entertainment.
"As well as generating a bumper weekend of business for our traders, the Wales Airshow helps raise Swansea's profile as city of high quality events. It's one of many events and activities taking place this summer as part of our Enjoy Swansea programme of events and activities."
The Red Arrows, the Typhoon display team, the Sea Vixen, the Tigers parachute display team and Gyro Air Displays have also been confirmed for the Wales Airshow, with more aircraft being confirmed in coming weeks.
A dynamic timetable of display times for the Airshow will be fed into an Airshow App a few days before the event.
The App, which is now available, will be updated in real time to reflect changes in the event schedule and timings that may be caused by the weather and other factors.
Details of premium parking and park and ride for the Wales Airshow are also now available.
Images by Paul Johnson